At the end of an entire afternoon with Shanta Adhikary Ghimire (pronounced Adhikaari Ghimirey), a 45-year old Nepali nanny in Jersey City, a single image of her remained in my mind. Our interview was coming to a close when she slipped into her bedroom and reappeared, dressed in new attire: a glittering orange sari and an embroidered lace blouse, with a necklace to match. As the setting sun poured into her small living room, she stepped in, presenting herself for more photographs. This was unexpected, but not surprising. Shanta Ghimire has no false modesty. Only a few hours ago, she sat at the edge of her sofa and confessed to being nervous. It was impossible to miss the echo of transformation when she changed from the simple salwar kameez she wore that morning into her best clothes, and the spontaneity and confidence this revealed.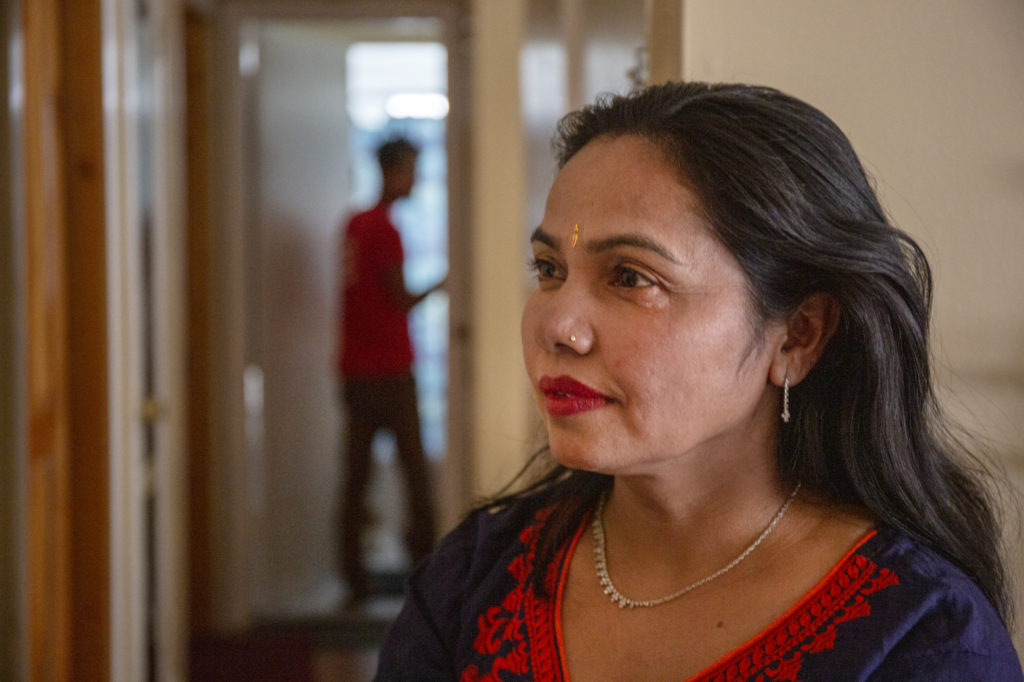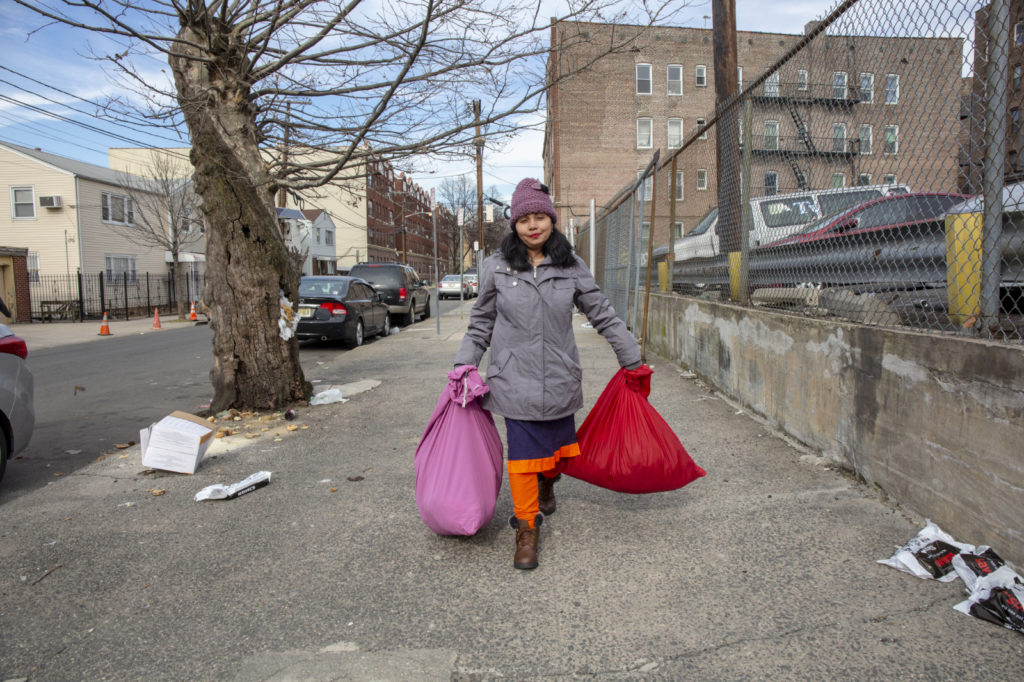 Growing up in the village of Lamjung, an overnight's train journey from Kathmandu, Nepal's capital, Shanta never dreamed that she would come to the United States. She grew up in a family of rice farmers. Through a teacher training program run by the government, she qualified to teach in the village school, and taught Nepali to first through fifth graders for 13 years. Her husband, Surya Prasad, taught English. During a trip to Kathmandu he applied for a diversity visa to the United States—also known as the green card lottery—a program that makes immigrant visas available to a random selection of individuals from countries with low rates of immigration. The prospect of winning entry into the US was so remote, her husband left out the names of their two children when he filled out the application form. Shanta says it was something he did on the spur of the moment, never imagining that they would win. Two years later, in 2008, the single phone in the village rang with a message from her sister in Kathmandu; the first letter announcing her selection had arrived.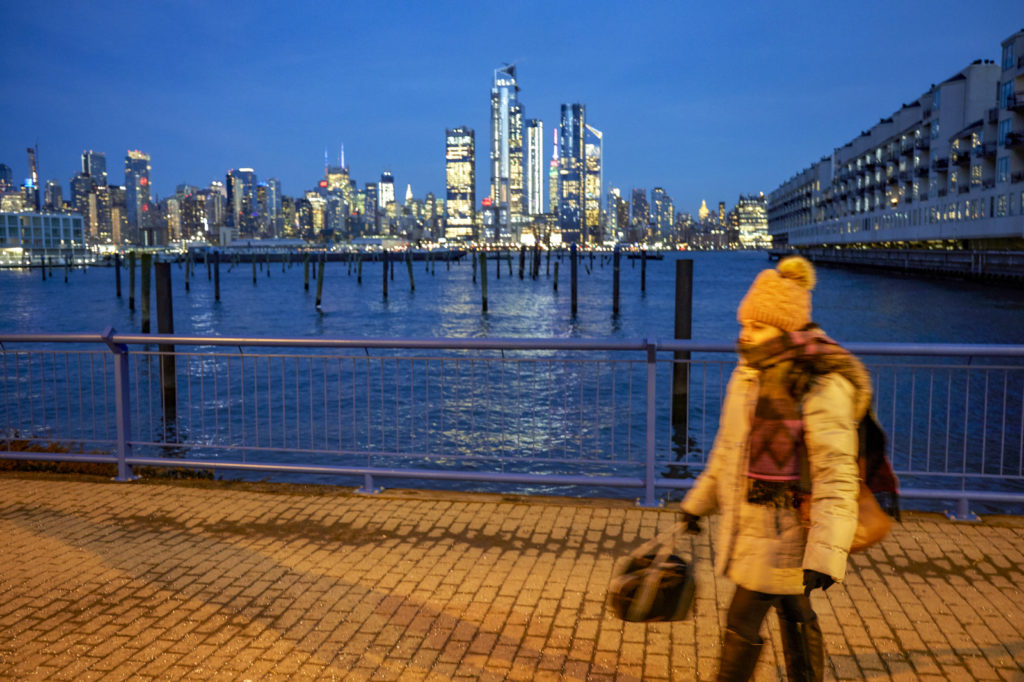 "Once I asked my employer if she could give me more food, that I was hungry, and she grew angry. 'How much will you eat?'"
"I was very excited when I heard the news. America to me was very lucky!" She lights up as she recounts this story. She arrived with her husband in Atlanta in 2008, leaving their children in the care of her sister. They stayed with a family friend, and the couple began working at Qdoba, a fast food chain, washing dishes and cleaning.
"It was very hard," she recalls. The work was meaningless. At the suggestion of a close friend who was a nanny in New York, the couple moved to Hicksville, Long Island, and Shanta contacted an agency. She was hired as a live-in nanny, to care for a toddler and an infant. She was so nervous about the new job and lifestyle, she took her husband with her to visit the family she would be living with. He began working in a gas station and for most of the next three years they only saw each other on weekends. Shanta's eyes fill with tears when she talks about her first months on the job. Her wages were low, and the isolation of having no contact with her community was devastating. She did all the housework and the cooking. Her employers, a young, working couple, ate dinner sometimes as late as 10 pm.
She was expected to do the dishes and clean up after them, often falling asleep after 11 and waking up at 6 a.m to tend to the baby. Even though the family was from the Indian subcontinent, she was shy around them. "I never had the habit of taking the food I needed—I would have one roti. Once I asked my employer if she could give me more food, that I was hungry, and she grew angry. 'How much will you eat?' she asked." Shanta told her husband how bad it was, but he encouraged her to go back.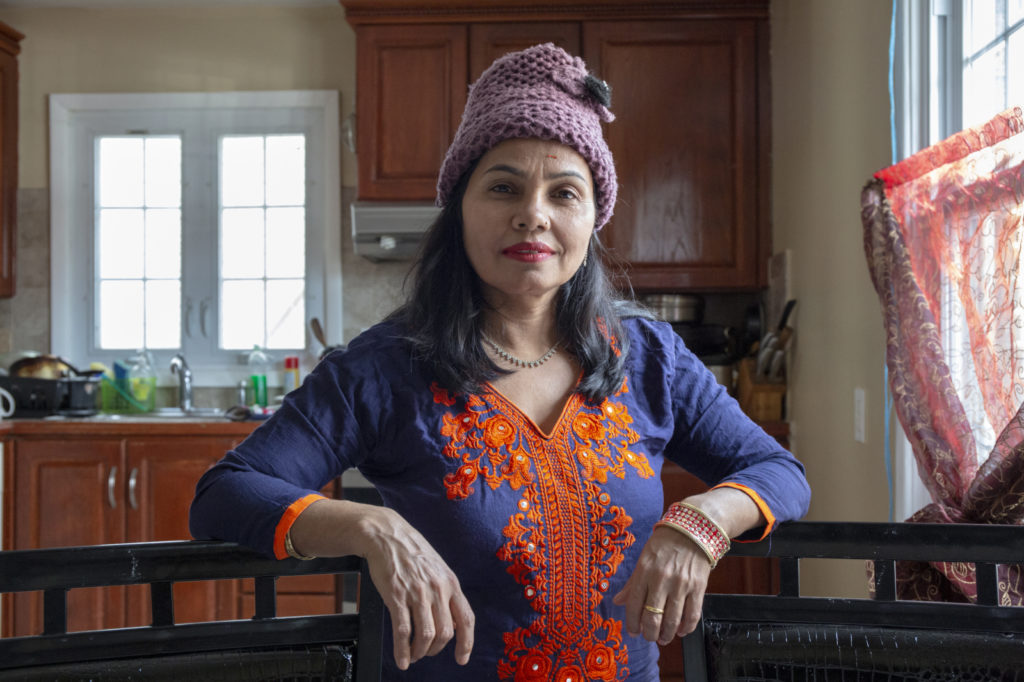 "Here in the States, you have to ask for what you want. No one was going to open the fridge with love and give me the food I needed."
During a visit to a Hindu temple in Jackson Heights, Shanta met a friend who told her about Adhikaar, a Nepali labor rights and advocacy group. At Adhikaar, she met Narbada Chetri, a social worker. "Narbada didi (a term of endearment that means elder sister) told me that here in the States, you have to ask for what you want. No one was going to open the fridge with love and give me the food I needed," explains Shanta. That weekend, she returned to work, prepared to voice her complaints to her employer. Her voice trembles as she recounts the story. She was going hungry, she said, and she needed a raise. At first the woman refused. But when Shanta informed her that she would have to look for other work, she relented. Shanta could eat what she wanted, whenever she wanted. She was given a raise, and her employer even paid a portion of Shanta's ticket to Nepal during her first visit back to see her children in 2010.
Attitudes towards domestic workers—maids, and the working class, in general—are entrenched in the culture of the Indian sub-continent. Influenced by hierarchies established centuries ago by the caste system, where the scholarly and priestly classes were at the top and workers who performed menial tasks fell to the bottom, the relationship between employer and employee can be exploitative. Growing up in India in the 80s and 90s, my upper middle class family, like everyone else I knew, hired women to clean our houses and wash our clothes. It was clear to me even as a little girl, that the women who worked in our houses and schools "knew their place". It does not come as a surprise that even Shanta, despite her years as a schoolteacher, submitted to poor treatment as though it were her due, until Adhikaar pointed out her rights.
Since Adhikaar's intervention and the empowerment that came with it, Shanta's experience with employers has been positive. She now has an annual bonus and paid vacation. Over a span of eleven years, she has worked for three families, all of Indian origin, spending 3-4 years with each. She no longer lives in, but commutes daily to Weehawken where she takes care of two children whom she loves. During a three-month trip to Nepal in 2018, her current employer called and asked if she would return a month earlier because their one-year-old son was refusing to eat. It should be noted that while this kind of request from an employer might be unacceptable in certain work cultures, Shanta did not take offense. Her employers' request indicated how much they value her.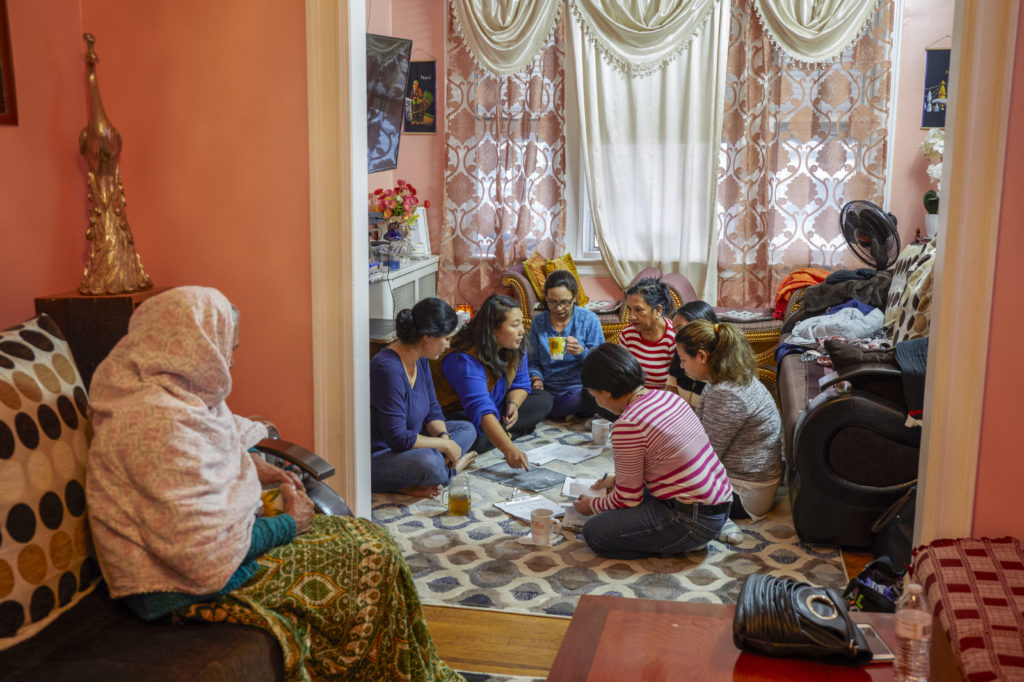 "They do not tell us much about how they are paying for college," says Shanta. "They know we cannot afford it."
At Adhikaar, Shanta has trained as a nanny, taken English-speaking classes, and learned CPR. She has participated in organized protests and activism, visiting Albany as part of efforts to lobby for the Domestic Workers Bill of Rights that was passed in New York State in 2010, a milestone in labor rights that Adhikaar worked to drive forward. Today, Shanta remains connected with the organization that gave her wings. Adhikaar selected her to be one of four workers to lead their steering committee in New Jersey that will oversee efforts to pass similar legislation in the state.
Shanta's daughter and son were 12 and 8 when she left Nepal. She and her husband paid for them to attend an English-speaking school in Kathmandu. By 2013, the children were able to join them in the States, and the family moved to Jersey City. The adjustment was hard initially, but it helped that the children knew English, says Shanta. Her husband now drives a taxi in New York City, her daughter has transferred to Rutgers University-Newark from Hudson Community College, and her son goes to New Jersey Institute of Technology (NJIT). Both children work to support their schooling.
"They do not tell us much about how they are paying for college," says Shanta. "They know we cannot afford it." Like many South Asian immigrants, Shanta and her husband are debt-averse; they have not taken loans for their children's education.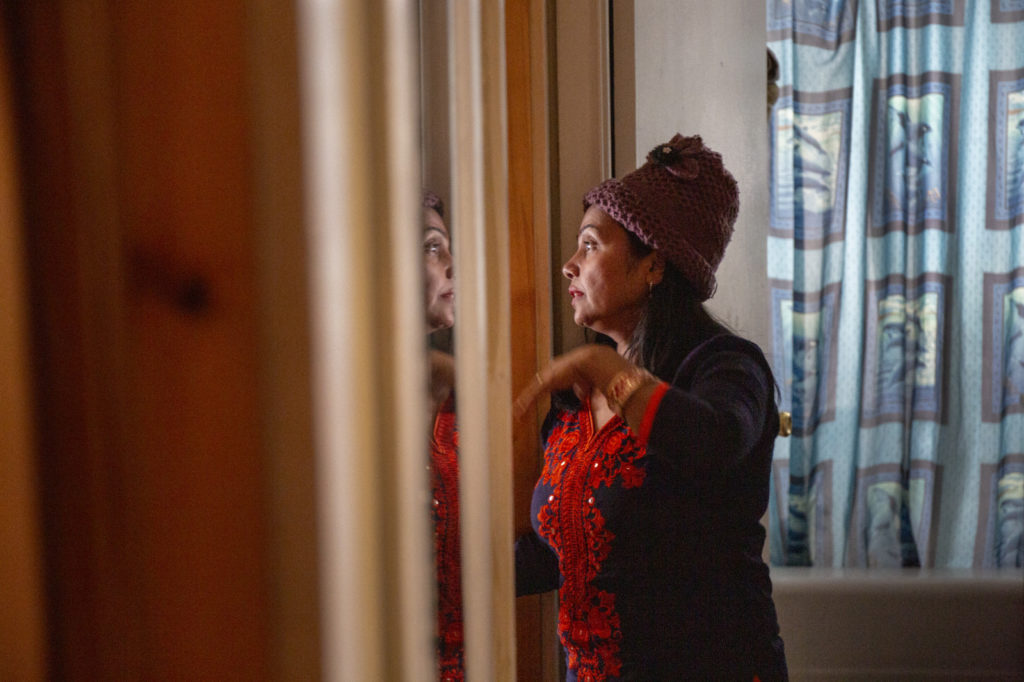 "My heart is not here in America. I want to go back."
With the help of a 'health navigator' in Adhikaar, Shanta and her husband qualified for state sponsored health insurance soon after she arrived in New York in 2008. Last year, however, a slight uptick in her husband's income resulted in their community plan being discontinued. Like so much of New Jersey's working population, the family cannot afford to buy health insurance and is currently without any coverage. For all her enfranchisement, Shanta finds it hard to accept that this would happen to them. She pulls out her expired health insurance card as if hoping that I could offer a solution.
"My heart is not here in America," she admits, lowering her voice, as if the idea is still not real for her. "I want to go back." The couple owns a house in Kathmandu now, where she dreams of returning when they retire. In Jersey City, the view from her living room is a pot-holed parking lot with a mesh fence. At its far end sits a large gray building that houses the Latin supermarket where she shops for groceries. "Nepal is very, very beautiful," she adds, speaking in English. "There are mountains…", her voice trails off.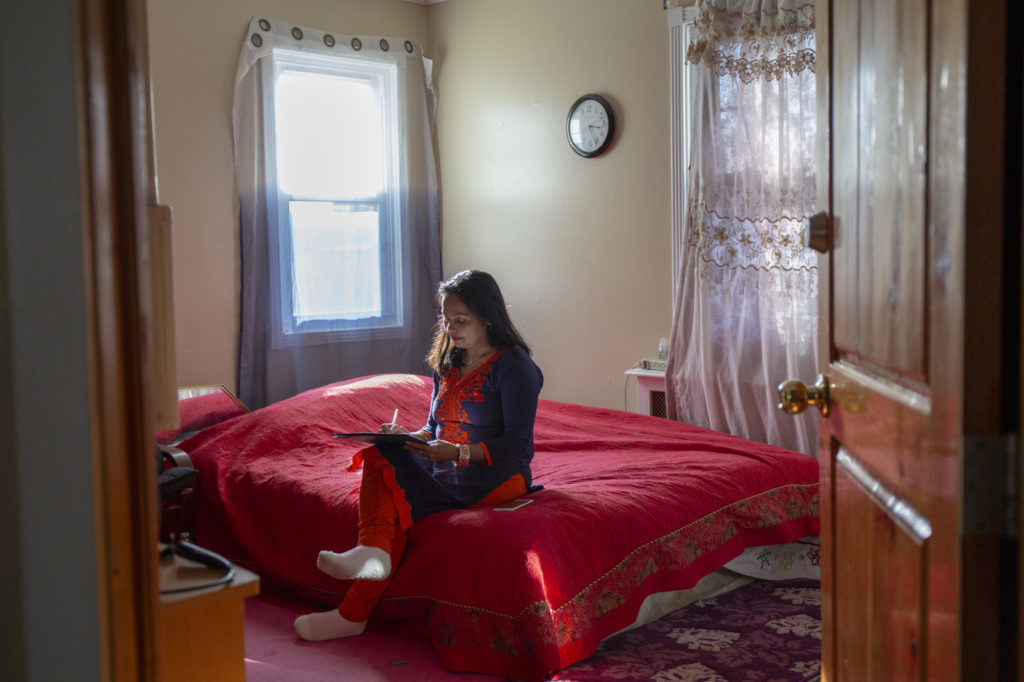 "I am proud that everyone here knows who Shanta is."
When Shanta first came to the States, she missed her children terribly. "I didn't talk about it," she says, "Instead, I decided to tell my story, about my two worlds in America and Nepal." She self-published her first book of poetry, Samudra Pariko Maya, in 2010. Loosely translated, it means "Across the Ocean." Two more collections of poetry, whose titles translate to "Heart of an Exile," and "Fruit of my Labors" have earned her a place in the tightly knit Nepali literary community. She is also a song-writer, she says with a smile. Her lyrics have been put to music and she shows me a CD with her name on it, featuring Nepali artists. "I am proud," she says happily, "that everyone here knows who Shanta is. Because of my writing, because of my books. Ask here, ask in Nepal—they know who I am."
From her first days as a nanny who knew no English and feared to speak for herself, Shanta has become an advocate for domestic workers in the Nepali community. And in the long journeys back and forth from her home in the foothills of the Himalayas to the concrete tangle of the working class Jersey City neighborhood where she now lives with her family, she has found her voice as an artist and a poet.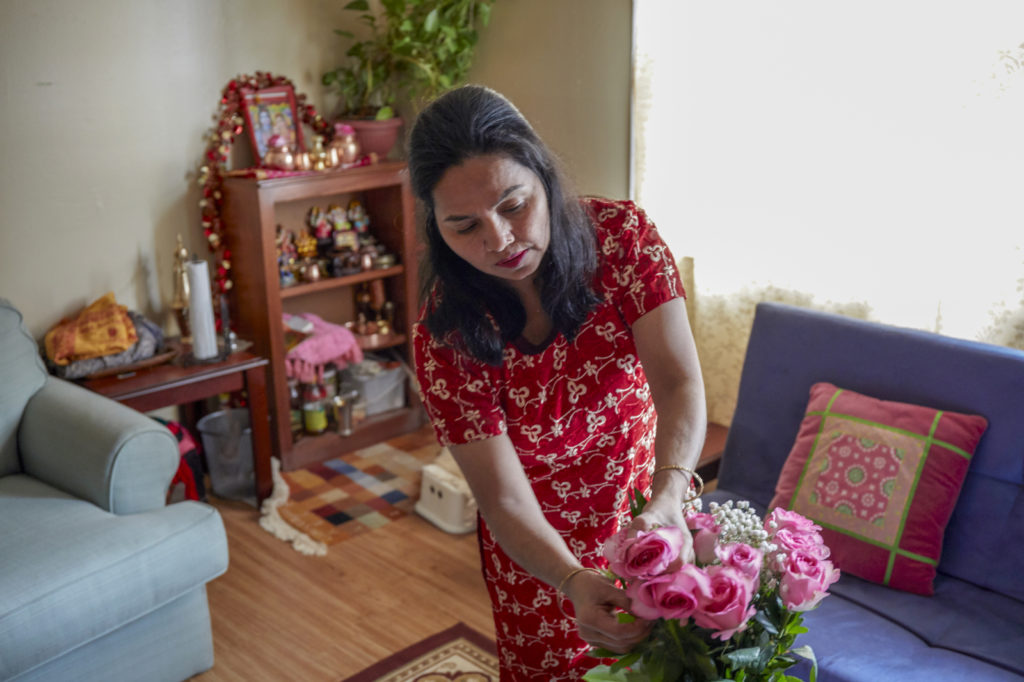 People know Shanta for more than her writing. In her crowded and brightly decorated living room, filled with statuettes of Hindu gods and an altar where she worships in the mornings, a corner is dedicated to framed certificates and accolades. They reveal a woman who reaches out to her community—as women's coordinator for the Non-Resident Nepali Association and treasurer for the New York chapter of the Nepali Literary Society, to name just a few. She is also a resource for Nepali nannies, connecting them with clients who contact her through websites where Shanta is registered as a care-giver. She laughs when she tells me that her online references are so good, people take her word.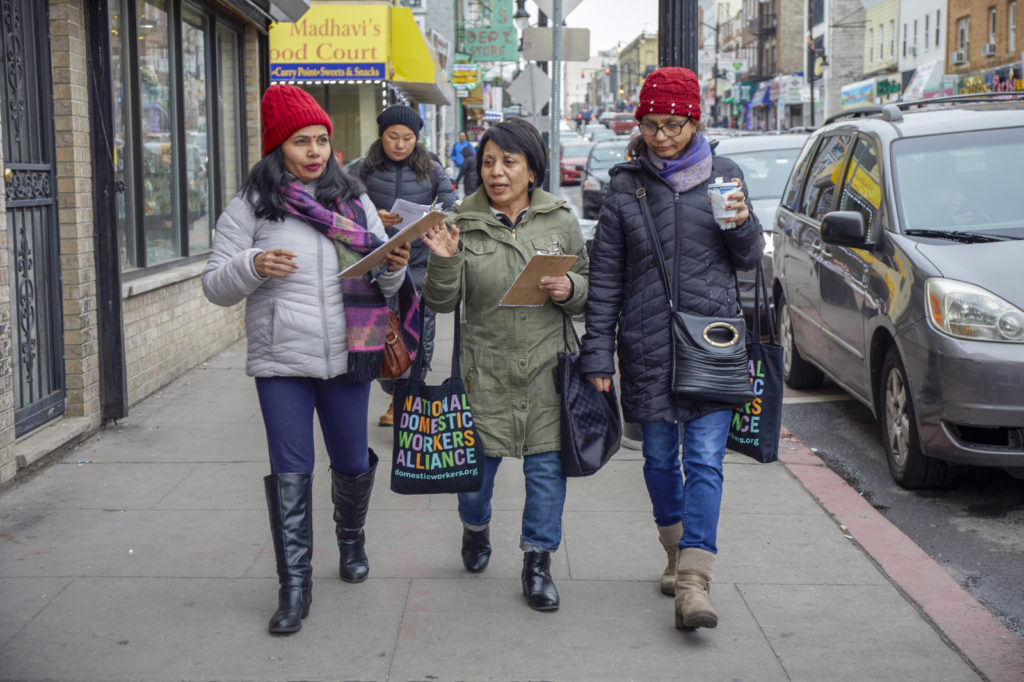 "They can tell me to leave in two days, or they can call me back. There are no laws that give us security."
A couple of weeks after we spoke, Shanta was a facilitator at an outreach event organized by Adhikaar. The event, held outside Patel Brothers, an Indian supermarket in Jersey City, was aimed at educating Nepali workers about the new law raising the minimum wage to $10 in New Jersey. Yet when I ask her what she really feels about domestic work, her enthusiasm flags. "I like it, but it can change any day. They can tell me to leave in two days, or they can call me back. There are no laws that give us security." Gone is the spark with which she discusses her writing and community work. Gone too is her cheeriness. She shakes her head.
We interviewed Shanta on February 24th, 2019.

Shanta's story is part of a Newest Americans series for the 37 Voices Project, an initiative that combines journalism, oral history, research, and theater to change the narrative around economic vulnerability in New Jersey, one of the highest-cost states in the country.