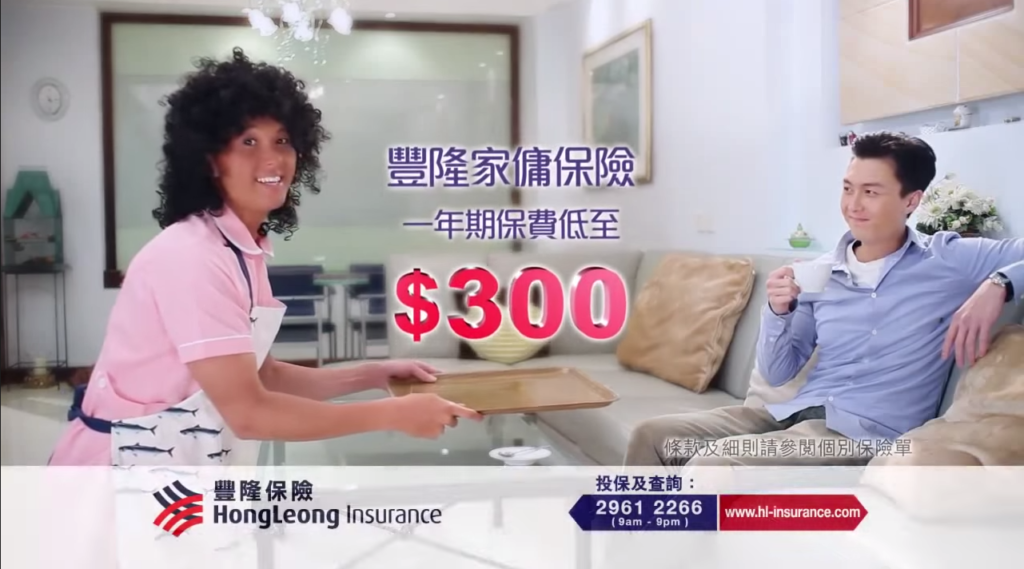 A recent advertisement from Hong Leong Bank in Malaysia was aimed at domestic workers in Hong Kong (most of whom are Indonesian or Filipina).
I tried in vain to find a translation but basically its encouraging employers to get insurance. It didn't go over so well. For obvious reasons. It has since been pulled. But it came across my social media platforms (mostly because I'm that friend who writes about domestic workers and people kept tagging me). So let's break this down:
The commercial opens and there is this music…sort of like the Muzak version of reggae. Then from afar we see this woman cleaning a table. Wait for it…we must set up the reveal.
Next the doorbell rings. Oh it's the employer! He is a handsome Chinese man played by a handsome Chinese actor. And he is ringing the doorbell to his own house for whatever reason.
Now the big reveal! The woman from the opening scene is the same handsome Chinese actor, playing a Filipina domestic worker. His own Filipina domestic worker. Which requires blackface and a terrible wig. To review: a male Chinese actor in blackface and drag playing a Filipina maid in a commercial that aired in Hong Kong for employer insurance from a bank based in Malaysia.
Maria (our maid), who, by the way, is wearing an apron with a trout pattern and pink house shoes, is so incredibly clumsy. So of course her employer needs to get insurance. What if something happens? What if she breaks his expensive things?
So yeah…get insurance from Hong Leong Bank. End of commercial.
And…all of this in 30 seconds. Without a translation. Now let's make sense of all of this shall we?
The music lets us know that this is a classic humorous commercial. A throwback if you will. I know I am thinking of this within a US context but it really triggered so many things in my mind. Think about those old Looney Tunes cartoons. Or television shows like Beulah. Or films like Gone With the Wind or the original version of Imitation of Life. Or minstrelsy.
Side note: During my trip to South Africa this summer I learned that American minstrel performance, thanks to the global capitalist market, had made its way to the continent. To this day South Asian communities in Capetown have a festival that happens right after the New Year with minstrel troupes and competitions and costumes, etc. It's on my list of things to read up on after the dissertation. But for our purposes it's worth noting that there is a relationship between minstrelsy and Asian communities.
Anyway, the commercial really takes me back to a moment in popular culture when domestic workers were a source of humor. Something to be ridiculed. Asexual, doting mammy figures. Anything but workers. And this humorous trope reemerges here during a serious global organizing effort for domestic worker rights. And a true moment of visibility for this movement. The migration of women across borders to serve the world's elite as domestic workers or sex workers (voluntarily or involuntarily) is at the forefront of transnational political discourse. It is the reason that Filipina and Indonesian women end up working in Hong Kong to begin with. This conversation, often times, is about anything and everything but labor.
Advocates and activists are really working hard to make sure that the labor process is at the center. The most common discussion that happens about domestic work is always whether or not the work is skilled or unskilled. And this is something that crosses national boundaries. It has happened over and over again throughout history. The first thing activists and advocates will tell you (and I will say it again here): Domestic work is skilled labor. The women who do it take their work very seriously. They should be paid fairly for their labor. They deserve to have their labor respected and protected.
Yet, in this advertisement, great pains are taken to make this woman look unskilled. To demean the actual work that it takes to do what she does. Plus this is happening along racial lines. The contrast between the employer and the caricature of the maid depends on the racial division between them. There are 300,000+ migrant domestic workers in Hong Kong. And the commercial reduces them to a type. One that is imbued with the worst kind of racism.
At one time we would have been able to say that domestic workers were an invisible workforce. But I'm not giving Hong Leong a pass here. Clearly, since they made a commercial specifically targeting the large (and no doubt noticeable) population of household workers in Hong Kong, they know better. Some of the bank executives probably have domestic laborers who work in their homes. Activists and advocates are a visible presence all over the globe.
Nope. No excuses. None. They should be ashamed. Domestic workers in Hong Kong were not afraid to say so. The company pulled the ad. They didn't apologize or express their shame and embarrassment. But the movement continues.
In case you need a palette cleanser after that one please check out NDWA's page on international organizing. Visibility and education are two of the most important aspects of the movement. Show the amazing women who make all other work possible some love!
Maid in the USA is a series about the domestic labor that makes all other work possible.